October 21, 2022
Brutus Calavera Coloring Contest Winners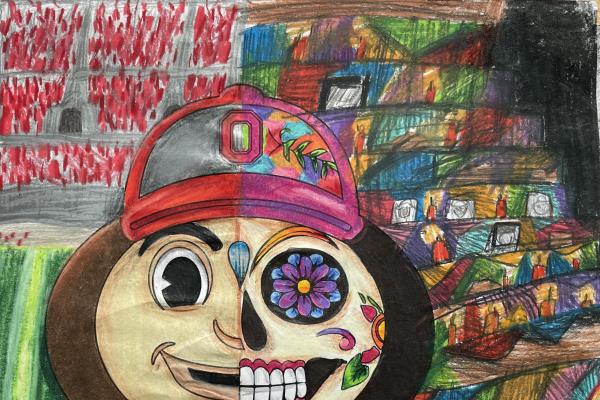 Congratulations to our winners in the Brutus Calavera coloring contest: Josie S., Bushra O., Caroline S., Ahmed A., Deven P., Isaac H., Grace L., Hadley F., Halle U., Audrey W.!!!
Children in grades preK-12 throughout the state were invited to submit their entries, either by sending them to our offices, or by dropping them off at the OSU booth at the Columbus Day of the Dead celebration in Greenlawn Cemetery.
Thank you so much to all the participants, our judges, and parents and educators who welcomed Brutus calavera into your homes and classrooms. We had over 400 entries! Thanks also to our partners and sponsors, including The Department of Spanish and Portuguese and the OSU Athletic Department.
This coloring contest aimed to introduce the holiday of Día de los Muertos to those unfamiliar with it, and worked to strengthen the relationship between Ohio State and Latinx culture.
Prizes include Ohio State swag, Amazon gift cards, and two sets of four tickets for the November 12th football game. Two winners were selected from each age category.  
We're looking forward to receiving your amazing submissions next year!
You can see eight of the entries in the slideshow, above, with the remaining two below. 
---