Image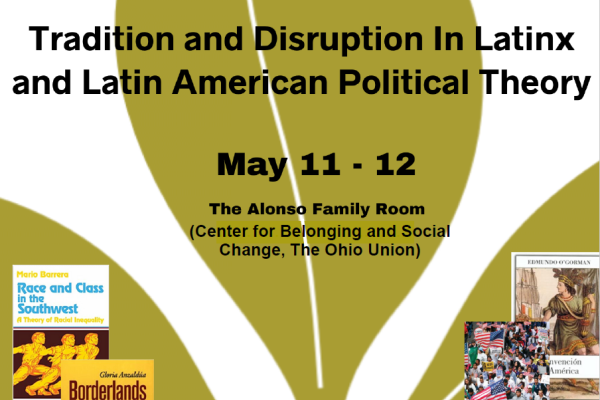 May 11 - May 12, 2023
9:00PM - 3:00PM
Location
Center for Belonging and Social Change, The Ohio Union
Date Range
Add to Calendar
2023-05-11 21:00:00
2023-05-12 15:00:00
Tradition and Disruption in Latinx and Latin American Political Theory
A workshop on tradition and disruption in Latinx and Latin American political theory will be held May 11-12.  The workshop—co-organized by OSU's Inés Valdez's Racial Capitalism Initiative, Ray Rocco (UCLA), and Arturo Chang (University of Toronto)—will take place in the Center for Belonging and Social Change, inside the Ohio Union. The event is generously co-sponsored by UCLA, the Department of Spanish and Portuguese, the Mershon Center, the Latina/o Studies Program, the Office for Diversity and Inclusion, the Multicultural Center and the Center for Latin American Studies.  The workshop explores the contributions of Latinx political theorists to the field of political theory. The event will focus on questions and approaches that characterize the study of Latinx Political Theory and its relation with Latin American thought and ongoing debates in the broader field of political theory. The workshop will focus on discussion rather than lengthy presentations, so attendees are expected to have read the papers in advance (see below for a full list of participants).  Time is tentatively May 11, 9 am - 5 pm; May 12, 9 am - 3 pm. To register for the workshop, please click on the following link: https://qfreeaccountssjc1.az1.qualtrics.com/jfe/form/SV_56dUErZxKb8nk22?Q_CHL=qr\  The event flyer is attached below.  Participants (alphabetical):  Cristina Beltrán (NYU, via Zoom)  Angélica Bernal (UMass)  Arturo Chang (Toronto)  Juliet Hooker (Brown, via Zoom)  Paulina Ochoa Espejo (Haverford)  Elva Orozco Mendoza (UConn)  Ray Rocco (UCLA)  Gabriel Salgado (Trinity College)  Inés Valdez (Ohio State)  Delio Vasquez (NYU)  Antonio Vázquez-Arroyo (Rutgers)  File Event flyer2.86 MB
Center for Belonging and Social Change, The Ohio Union
OSU ASC Drupal 8
ascwebservices@osu.edu
America/New_York
public
Date Range
Add to Calendar
2023-05-11 21:00:00
2023-05-12 15:00:00
Tradition and Disruption in Latinx and Latin American Political Theory
A workshop on tradition and disruption in Latinx and Latin American political theory will be held May 11-12.  The workshop—co-organized by OSU's Inés Valdez's Racial Capitalism Initiative, Ray Rocco (UCLA), and Arturo Chang (University of Toronto)—will take place in the Center for Belonging and Social Change, inside the Ohio Union. The event is generously co-sponsored by UCLA, the Department of Spanish and Portuguese, the Mershon Center, the Latina/o Studies Program, the Office for Diversity and Inclusion, the Multicultural Center and the Center for Latin American Studies.  The workshop explores the contributions of Latinx political theorists to the field of political theory. The event will focus on questions and approaches that characterize the study of Latinx Political Theory and its relation with Latin American thought and ongoing debates in the broader field of political theory. The workshop will focus on discussion rather than lengthy presentations, so attendees are expected to have read the papers in advance (see below for a full list of participants).  Time is tentatively May 11, 9 am - 5 pm; May 12, 9 am - 3 pm. To register for the workshop, please click on the following link: https://qfreeaccountssjc1.az1.qualtrics.com/jfe/form/SV_56dUErZxKb8nk22?Q_CHL=qr\  The event flyer is attached below.  Participants (alphabetical):  Cristina Beltrán (NYU, via Zoom)  Angélica Bernal (UMass)  Arturo Chang (Toronto)  Juliet Hooker (Brown, via Zoom)  Paulina Ochoa Espejo (Haverford)  Elva Orozco Mendoza (UConn)  Ray Rocco (UCLA)  Gabriel Salgado (Trinity College)  Inés Valdez (Ohio State)  Delio Vasquez (NYU)  Antonio Vázquez-Arroyo (Rutgers) 
Center for Belonging and Social Change, The Ohio Union
Latina/o Studies
latina-ostudies@osu.edu
America/New_York
public
Description
A workshop on tradition and disruption in Latinx and Latin American political theory will be held May 11-12. 
The workshop—co-organized by OSU's Inés Valdez's Racial Capitalism Initiative, Ray Rocco (UCLA), and Arturo Chang (University of Toronto)—will take place in the Center for Belonging and Social Change, inside the Ohio Union. The event is generously co-sponsored by UCLA, the Department of Spanish and Portuguese, the Mershon Center, the Latina/o Studies Program, the Office for Diversity and Inclusion, the Multicultural Center and the Center for Latin American Studies. 
The workshop explores the contributions of Latinx political theorists to the field of political theory. The event will focus on questions and approaches that characterize the study of Latinx Political Theory and its relation with Latin American thought and ongoing debates in the broader field of political theory.
The workshop will focus on discussion rather than lengthy presentations, so attendees are expected to have read the papers in advance (see below for a full list of participants). 
Time is tentatively May 11, 9 am - 5 pm; May 12, 9 am - 3 pm.
To register for the workshop, please click on the following link: https://qfreeaccountssjc1.az1.qualtrics.com/jfe/form/SV_56dUErZxKb8nk22?Q_CHL=qr\ 
The event flyer is attached below. 
Participants (alphabetical): 
Cristina Beltrán (NYU, via Zoom) 
Angélica Bernal (UMass) 
Arturo Chang (Toronto) 
Juliet Hooker (Brown, via Zoom) 
Paulina Ochoa Espejo (Haverford) 
Elva Orozco Mendoza (UConn) 
Ray Rocco (UCLA) 
Gabriel Salgado (Trinity College) 
Inés Valdez (Ohio State) 
Delio Vasquez (NYU) 
Antonio Vázquez-Arroyo (Rutgers) 
---