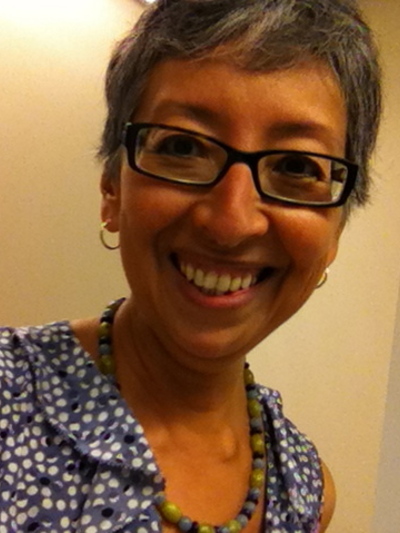 Theresa Delgadillo
Professor, Department of Comparative Studies
436 Hagerty Hall
1775 College Road
Columbus, OH
43210
Areas of Expertise
Spirituality/Religion/Worldviews
Latinas/os in the Midwest
AfroLatinidad
WHAT DO YOU SEE IN A PHOTO? OR HEAR IN A SONG? WHAT DOES A STORY MEAN? TO YOU? OR ANOTHER? HOW DOES A TEXT ACHIEVE ITS EFFECT? WHY DOES IT APPEAR WHEN IT DOES?
We read or see or hear a text and we are called to interpret it. In this act of creating meaning we discover a text's layers, valences, figurative language, symbols, contexts, politics, influences, beauty and significance. These elements of a text will impact our interpretation, but so, too, will the context(s) in which it appears and the audience(s) receiving it. What a text includes or excludes matters. How a text is constructed matters. When it is published matters. Who reads it matters. What it does matters. And what we do with it also matters.
My work has been devoted to three areas: spirituality and religion, African Diaspora and Latinidad, and Latino/as in the Midwest. My objects of study have included novels, autobiographies, memoirs, photographic collections, feature and documentary films, poetry and music. In research and teaching I explore the intersections among gender, sexuality, race and nation as well as critique these categories; engage with comparative, transnational and migratory paradigms and movements; pursue transdisciplinary knowledge; and desire to make socially transformative knowledge possible.
Future projects will focus on twentieth and twenty-first century comparative ethnic, multiethnic, postcolonial and women's texts in the Americas. I am interested in exploring topics such as spirituality, religion, nationalism, transnationalism, ethnicity, race, gender, sexuality, class, cultural and social change, history, memory, remembrance, diaspora, exile, identity, community, interpretation, networks, cross-cultural exchange, justice, intersectionality, hybridity, immigration and war in literature, visual culture and music.